You can invite in two ways.
1. (Recommended!)
If you want to invite one or more users to one or more courses, there is a straightforward way to do it.
Click Invitations under Tool in the menu of your company.
Click New invitation (on the right side)

Maximum number of recipients: Stands automatically as unlimited. If you set a limit, the invitation will only be valid for that number of recipients.
You may want to leave it unlimited. Then you can use the same invitation again if you are going to invite to the same course later.
Recipients
Relationship : the choice here controls who the course is available for.
Contractor / Visitors: here you can also choose the company the recipients are employed in, or choose to leave it unspecified.
Content
Roles: If the company has created roles you want to divide the employees into, you can add the role here. Then the recipients of the invitation will be registered for this role.
It is not mandatory to add a role.
Course: Press + to add the course you want to invite to.
You will see a list of available courses.
Add the course (s) by pressing + and then Add .

NB : It is a good idea to check if you have enough licenses for the course before sending the invitation.
Click Create invitation

Add recipients

You can add one recipient at a time or paste from a list. Remember to press the + sign before proceeding.
If you want to send the message in another language, you can select it in the drop-down menu.
NB: Only the default text in the invitation is translated. A message you may have added yourself will not be translated.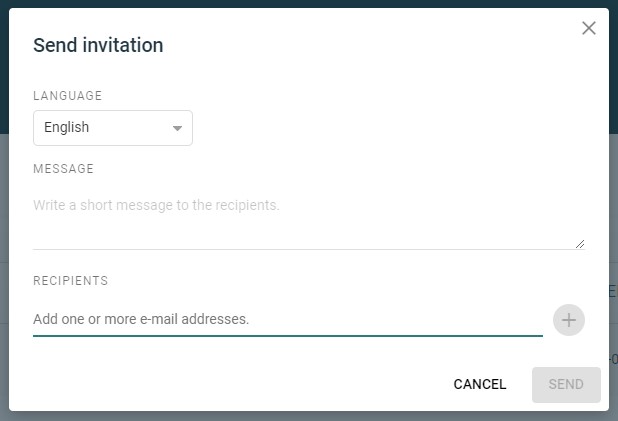 Click "Send" and you are good to go!
2.
If you only have to invite one user to one course you can register him / her directly on the course.
Go in on Course
Click on the course you are going to invite to
Click on the blue button in the right corner: «invite user (s)»

Enter name or email in the search field.
You can also write a phone number, but if you want to get hits, the user must have this registered.

If you get a hit, click on the arrow to the right of the user.
You can add multiple users in the same way.
The user will receive an invitation that is placed at the top of "My courses", and will receive an email that a course registration has taken place.
If you do not get a hit on the user, enter the e-mail address, and fill in the name. Then an invitation will be sent to the person by email.